AvPlan EFB is the leading flight planning application for the Apple iPad and iPhone. It is available from the Apple App Store.
Envisioned, developed and rigorously tested by pilots for pilots. Focused on continuous improvement, the team at AvPlan EFB consult with  our Product Design Board comprising senior CFI's and pilots active in all major aviation segments.
Subscriptions for AvPlan EFB are available for purchase inside the app, or directly from our website. Subscriptions through this site come at a discounted rate over those available through the app, as it bypasses the Apple royalty payment. Your AvPlan EFB subscription can be used by you on up to three (3) devices.
The current AvPlan user base includes pilots from all areas of aviation;
Regional, Part 121 pilots
Part 135 charter organizations
Agricultural pilots
Private pilots
Recreational pilots
Military pilots
SAR/EMS pilots
Designed as the go-anywhere lifetime EFB application that can grow with you – from local VFR recreational aviation through to professional Part 135 charter and Part 121 airline operations, AvPlan EFB has been designed to leverage your investment by using the portability, connectivity, ease of use, reliability and processing capability of your Apple iPhone and iPad.
The Perfect Co-pilot
Responsive, powerful and portable, AvPlan EFB's context awareness engine ensures it's always ready to provide you with the best possible information at your fingertips whether you're preparing for a flight or airborne.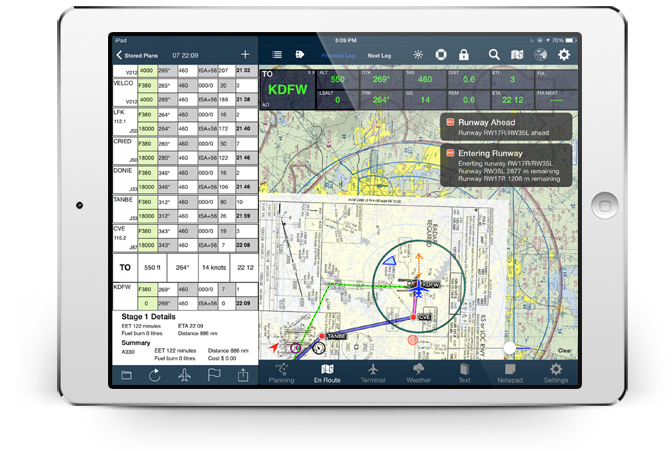 1
Approach Plate Overlay
Auto-loads airport diagram
3
Sophisticated notification engine
5
Export flight plan to Jeppesen Mobile FliteDeck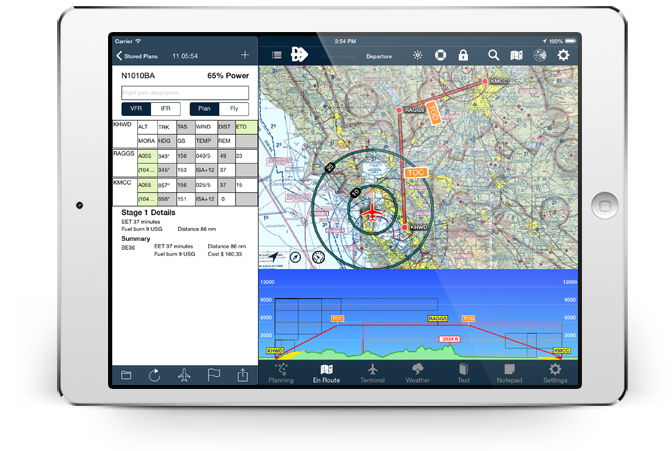 1
Profile view with flight path, terrain, airspace, obstacles
2
Flight plan overlaid on map
Other overlays include
TFRs
Fuel prices
METARs
SIGMETs
Glide envelope
3
Distance rings around aircraft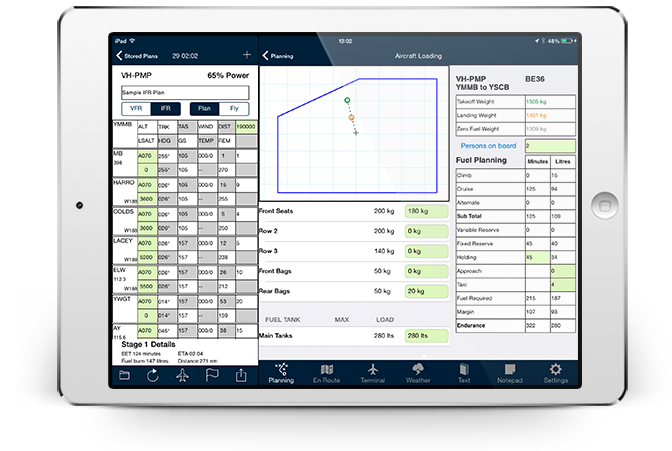 1
Advanced aircraft weight and balance capabilities
2
Load passengers and create load sheets
3
Customizable fuel plan, including climb, cruise, descent, alternates etc.