Late last week CASA have approved the uAvionix SkyEcho2 as an ADSB-out device for VFR use (See AIP-SUP H65/20). These devices work brilliantly with AvPlan EFB for iOS and are perfect for VFR pilots flying without ADSB-out in their aircraft.
The SkyEcho2 is extremely portable, around the size of two packs of playing cards, and with its 12 hour battery life has enough life for a full day or flying. The kit comes with the SkyEcho2, RAM window mount and a USB-C charging cable.
With the SkyEcho2 in your aircraft, you will be seen by nearby aircraft equipped with ADSB-in, plus you will also see all nearby ADSB-out equipped aircraft. ADSB does not rely on any ground infrastructure, so works whether or not you are within cellular or radar coverage.
For those with AvPlan EFB for Android, support for the SkyEcho will arrive in August 2020.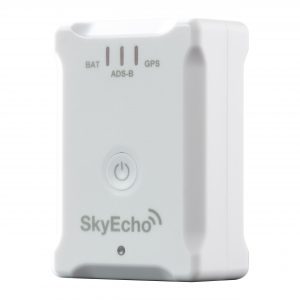 Specification
Value
Operating Time
12 hours
Operating Power
3 watts
Size
57x82x30mm
Weight
120 grams
SDA/SIL
1/0 (TSO-C199 GPS)
Operating Temp
-45 to 70°C
Transmitter
Frequency
1090MHz ±1MHz
Transmit Power
20W Nominal
Frequency
DO-260B DF-18
Receiver
1090 Performance
-93 to 0dBm
978 Performance
-103 to 0dBm
WAAS GPS
Augmentation
SBAS
Sensitivity
-167dBm
Altimeter
Range
-1000 to 60,000ft
Interfaces
Wi-Fi
802.11 b/g/n 2.4GHz
4 simultaneous Connections
Ports
USB-C