AvPlan EFB 8.0 is now available for install from the Apple App Store. In this release we have;
Made extensive updates to weight and balance
Improved the HUD on the map display
Added traffic alerting (audio and in-app notifications)
Added the ability to create a flight plan from a KML overlay
Added new 'Future Rain Radar' to show areas of anticipated rainfall up to 90 minutes into the future
Lots of other small improvements
Weight and Balance
In this release we have completely overhauled weight and balance to provide
Multiple weight and balance profiles for an aircraft
Lateral weight and balance
Additional of 'optional equipment' which can be assigned to a profile, and selectively loaded or unloaded from the aircraft.
Load sheets which can be electronically approved by a Weight Control Authority.
Pro users can now create multiple loading profiles for an aircraft. These profiles can be copied, renamed, reordered (the default load profile that is used is the first in the list).
The load profile can be selected with the Profile button on the Weight and Balance/Loading page (Settings, Aircraft Loading). Approved load profiles are denoted with a green tick.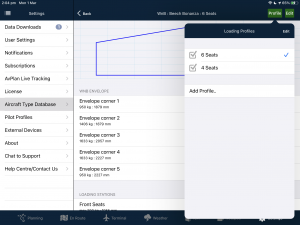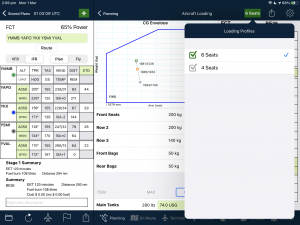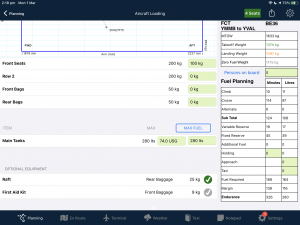 Optional equipment for a profile can be configured and quickly selected/de-selected depending on whether is is present in the aircraft for that flight.
Different sets of optional equipment can be specified for each load profile.
A new 'Max Fuel' button will load the aircraft to MTOW (and add taxi fuel) and fuel can be added using both types of fuel units (KG/Lbs or Litres/USG).
Load Sheets
Load sheets are produced in PDF format and can be saved for safety and compliance purposes. Load sheets are annotated with the AvPlan EFB version, and the version number of the Weight and Balance module within AvPlan EFB (currently 2.0).
Load sheets are annotated with the Weight Control Authority name, approval number and date if the load profile has been approved.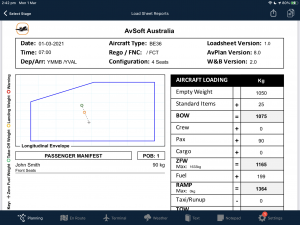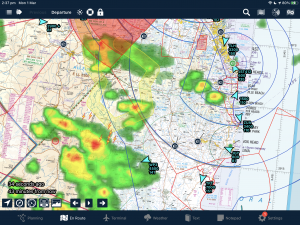 Future Rain Radar
Pro subscribers can now view the Future Rain forecast overlay on Enroute, Weather Overlays. This will show areas of rainfall up to 90 minutes into the future, presented in a similar format to the actual rain radar.
Traffic Alerts
Pilots can now enable traffic alerts on their devices. Tap Settings, User Settings and enable Traffic Warnings. You will receive alerts based on proximity and closure time.
Alerts appear as in-app notifications, or audio.
Alerts will be triggered for targets received via AvPlan Live (Cellular Traffic) or an attached ADSB receiver. For best results, we recommend a directly connected ADSB receiver, such as the SkyEcho 2.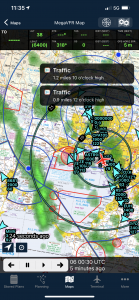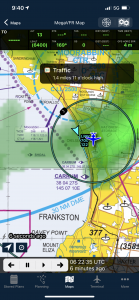 Other improvements include;
Multiple pilot profiles can be created (Pro Users) and then selected when submitting a flight plan. A pilot profile includes Name, email address, phone number, NAIPS login, default aircraft callsign and flight plan remarks (Such as PIFR remarks etc)
Altitudes can be entered as a three digit code ('030′ for 3000' for example)
Default names can be entered, and will populate the weight and balance/load sheet
Weight and balance envelope is now annotated with weights and arms. Arms always appear, even when significantly out of the envelope.
Get quick access to the ERSA entry for a PRD area, when double tapping on that airspace.
Add enroute alternates to an SPFIB briefing request
Fix an issue preventing an SPFIB briefing being refreshed
Fix an issue where waypoints with spaces in them aren't recognised by the quick route editor.
Colour code the New Zealand AIP Emergency Pages pink, like the real document.