Plan Smarter – Fly Sooner
AvPlan is the leading Australian flight planning application for Apple iOS and Android devices. It is CASA approved under CASR Part 175 so can be a legal replacement for paper maps, ERSA, DAP, AIP and AIP SUP. It is always recommend that a backup be carried in the cockpit, and this backup can be another device running AvPlan EFB, or traditional documentation.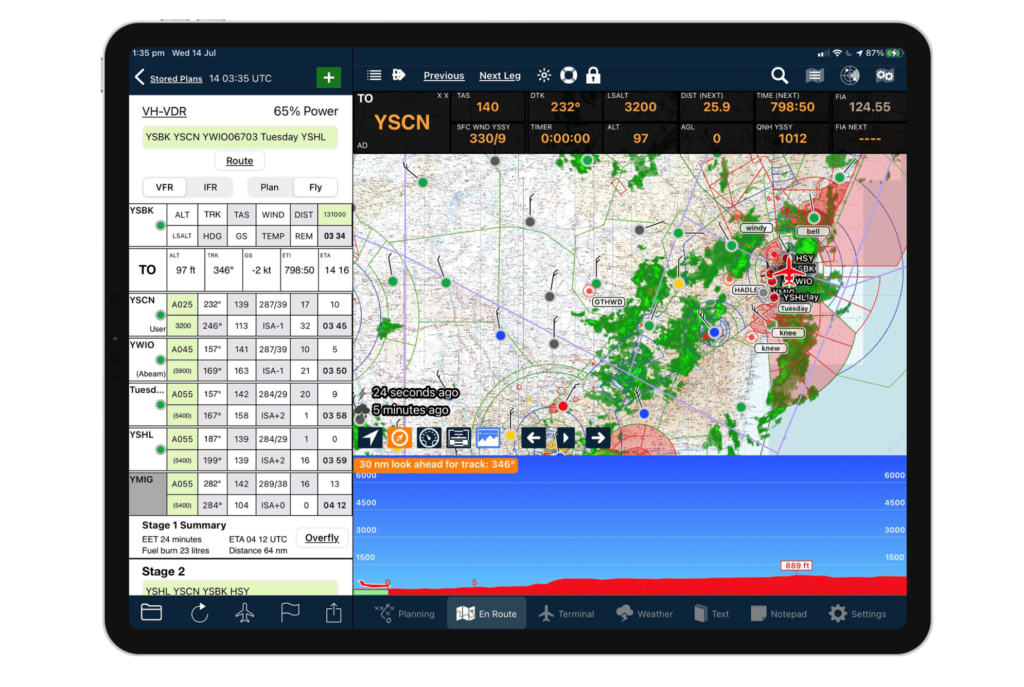 Subscriptions for AvPlan are available for purchase inside the app via the App Store or Google Play, or directly from the website.
AvPlan EFB is designed as the go-anywhere lifetime EFB application that grows with you – from local VFR recreational aviation through to professional IFR charter and regional airline operations. AvPlan has been designed to leverage your investment by using the portability, connectivity, ease of use, reliability and processing capability of your device.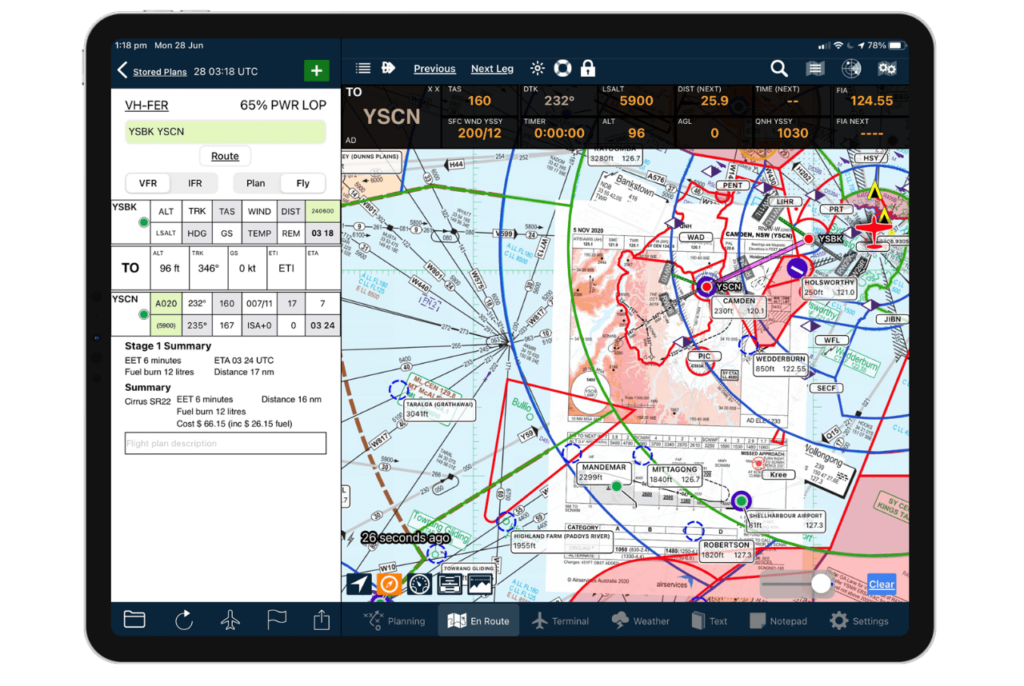 Charts, Data & Diagrams
---
Full database of Australian airports, navigation aids, waypoints, visual tracking points and designated IFR routes
Built in ERSA, DAP, visual (WAC, VTC, VNC) and IFR (ERC, TAC) charts, approved by CASA as a legal replacement for paper documentation. Our maps automatically adjust to show you exactly what you need to see. No more fumbling for the correct map in flight, or searching for the correct map on your old EFB
Displays your position on all airport taxi diagrams and instrument approach plates
Airport taxi diagrams and instrument approach plates can be overlaid all maps
Point and create user waypoints on visual and IFR charts and approach plates
Display routing and current position information on visual and IFR charts (including DAP plates)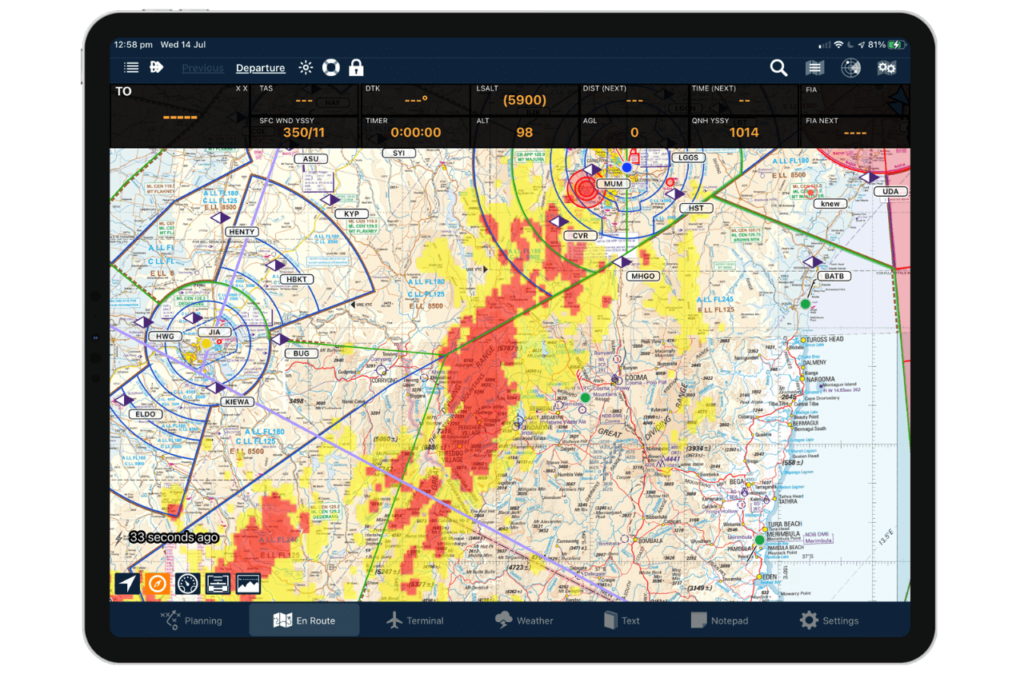 Automation & Warnings
---
NAIPS integration to download and automatically save NOTAMs, forecasts and NAIPS charts.
NAIPS integration to submit completed flight plans
Audible warnings to your bluetooth enabled headsets
Terrain warning overlay on all maps
Terrain warnings and altitude call-outs
SARTIME warnings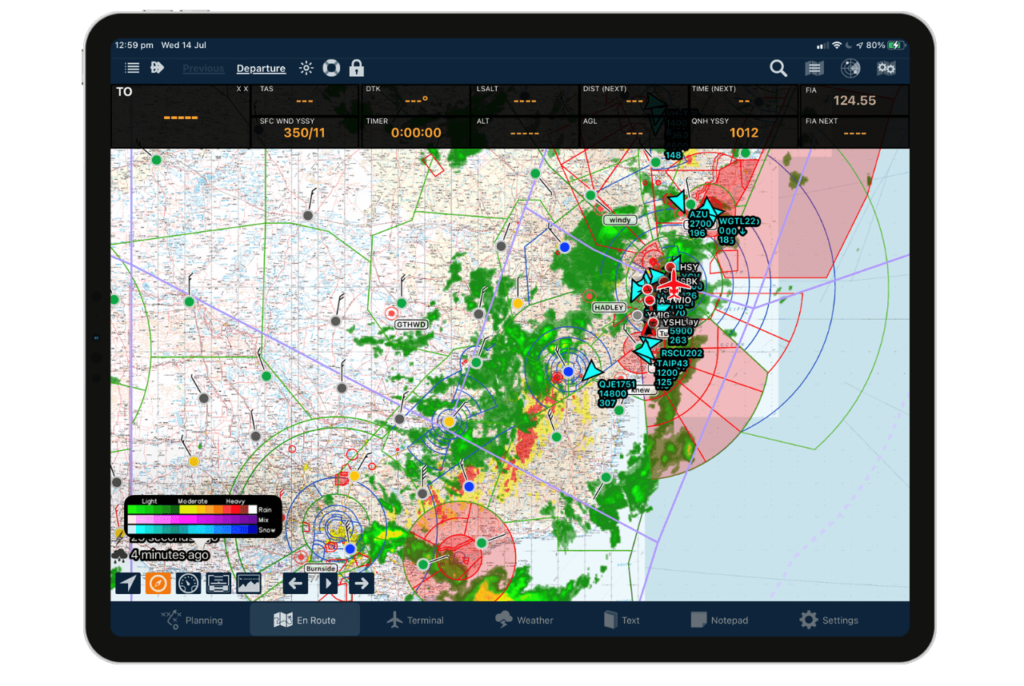 Weather
---
Access to weather charts (Synoptic, Satellite, BOM weather radar)
Weather radar overlay on all map types
Lightning overlay on all map types
METAR and SIGMET overlays on all maps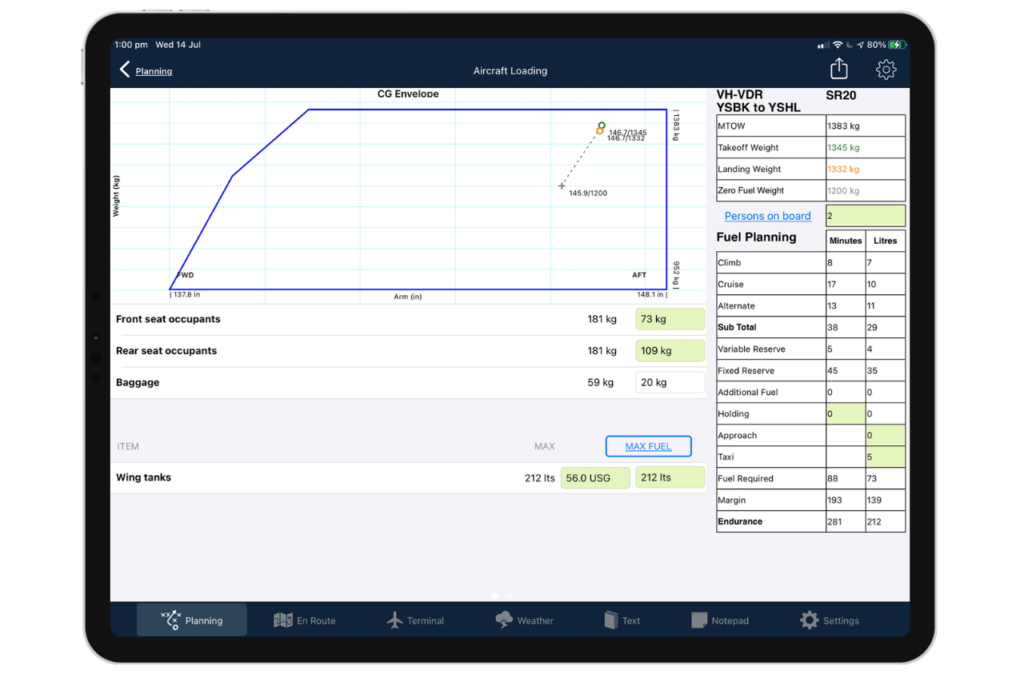 Compatible & In-Sync
---
Database of aircraft types with detailed performance models
Weight and balance calculations to suit all aircraft types
Sophisticated flight plan and aircraft model syncing between your devices
Import flight plans from Command Flight Planner, Champagne Flight Planner 3000 and Jeppesen FlightStar
Export flight plans wirelessly to Avidyne IFD-series and Dynon Skyview-series avionics
Export flight plans to directly to your Garmin Pilot or Jeppesen FliteDeck Pro apps. You can also export via SD card to your handheld Garmin GPS, Garmin G1000
In addition to creating a flight plan, AvPlan EFB can then be used in flight with all the above features to keep track of all in flight planning activities. It acts as a self-updating flight plan, calculating departure times, estimated enroute times and arrival times. AvPlan extends the electronic flight bag concept into something that is in a league of its own.
Maps can be rotated to suit any orientation – just like a paper chart. Fixes can be added in flight, again just like noting down a fix on a paper chart.

AvPlan EFB, a simple, easy to use application for pilots allowing for on the go flight planning and a paperless cockpit.
Features
Standard
Standard Plus
Premium
Devices
VFR Seamless Mega' Moving Map

Android/iOS
IFR Seamless Mega Moving Maps

Android/iOS
Flight Planning

Android/iOS
Direct to Navigation

Android/iOS
NAIPS Briefings

Android/iOS
Radar & Lighting Overlay

Android/iOS
Maps Active Airspace, TRA, NOTAMS (MIL LJR ETC)

Android/iOS
Horizontal Terrain Display

iOS
Social Share Flight Details

iOS
Add Fixes Along Route

iOS
Aircraft Performance Profiles

Android/iOS
Aircraft Weight and Balance

iOS
Fuel Calculations

Android/iOS
User Waypoint

Android/iOS
Automatic Altitude Optimisation

Android/iOS
Sync Flight Plans/Aircraft to Cloud

Android/iOS
Advanced Weather Forecast Overlays (Cloud)

Android/iOS
Print and Send Flight Plan

Android/iOS
GEO REF Airport Diagrams

Android/iOS
Interactive Weather (GAF)

Android/iOS
Weather Forecast Overlays (Sigmet, Airmet)

Android/iOS
PNR, Multiple CP Calculations, Enroute

iOS
Georeferenced Approach Plates

iOS
Import Any Filed Flight

iOS
Features
Standard

Standard Plus

Premium

Devices
Features
VFR Seamless Mega' Moving Map
IFR Seamless Mega Moving Maps
Maps Active Airspace, TRA, NOTAMS (MIL LJR ETC)
Horizontal Terrain Display
Social Share Flight Details
Aircraft Performance Profiles
Aircraft Weight and Balance
Automatic Altitude Optimisation
Sync Flight Plans/Aircraft to Cloud
Advanced Weather Forecast Overlays (Cloud)
Print and Send Flight Plan
Interactive Weather (GAF)
Weather Forecast Overlays (Sigmet, Airmet)
PNR, Multiple CP Calculations, Enroute
Georeferenced Approach Plates