AvPlan EFB 7.5 is now available in the Apple App Store as a free update for all users. The highlights for this release are
Support for the new Australian GAF and GWPT
New weather pane with a lot of new weather charts plus a link to windy.com
Enroute weather in your flight plan
Option for a full screen nav log/flight plan (Great for the iPad Mini)
Lots of performance improvements for older devices

In this release we have added support for the new Australian GAF and GWPT forecasts (which replace the ARFORs on November 9th). The app will automatically switch to the new forecasts on November 9. Area briefings and SPFIB briefings will include the new GAF and GWPT graphics, and you can also print them if required.
From November 9, AvPlan EFB will automatically use the new low level grid winds. The requirement to select a subdivision in a forecast will go away at that time.
The weather pane has been completely revamped with a bunch of new weather products which are available to view. We have included;
BoM weather charts
SIGWX charts (medium and high level)
GWPT forecast charts
Surface winds, pressure, rainfall forecasts
Winds aloft forecasts
The weather options now available in the Weather pane are now incredibly comprehensive which should give you a great appreciation of weather for 5 days into the future.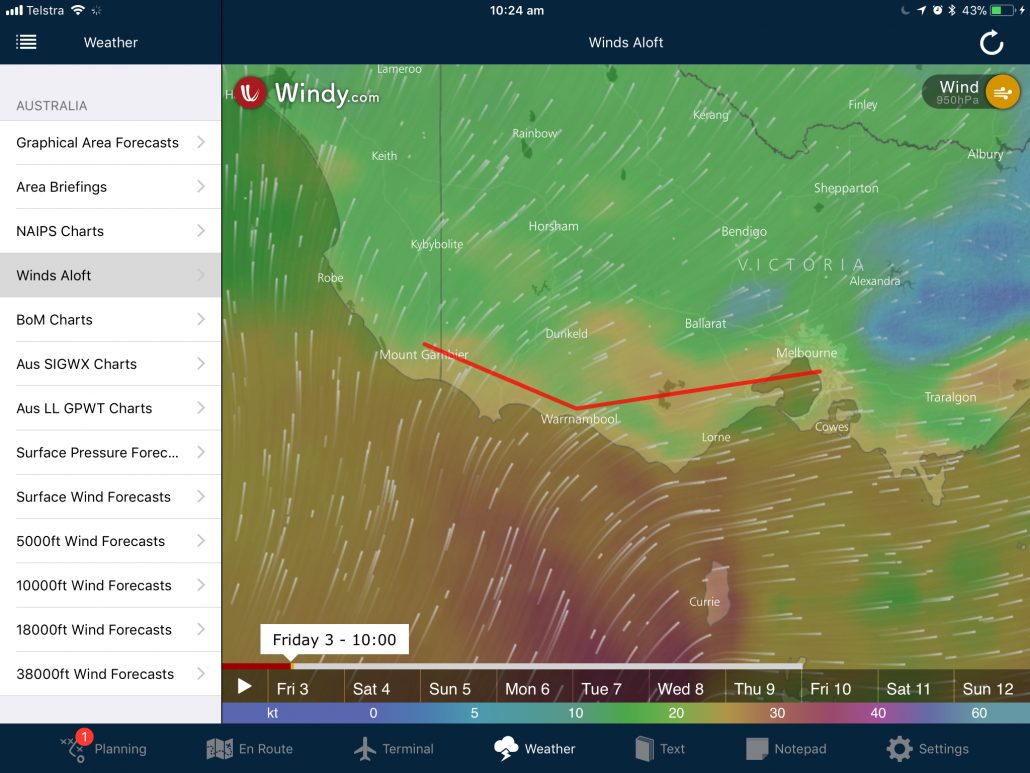 You will also notice a link to Windy.com (Tap on Winds Aloft). Your location, flight plan will be elegantly overlaid on the chart.
Tap on the top right to change various display options, altitudes etc.
The AvPlan EFB nav log has had an update as well. The nav log now includes icons for the enroute weather (within 5 NM of the waypoint) and the nav log can be displayed as a full screen tab. The icons match the colour codes used for the METARs
Tap Settings, User Settings, Full Screen Flight Plan to turn on the full screen flight plan.
The Route Editor at the top of the flight plan now supports creating bearing/distance waypoints as well. Enter a waypoint using the format NAMEBRGDST (YMMB21009 – Moorabbin, 210 degrees and 9 NM for example) to create a waypoint as a bearing and distance from another point.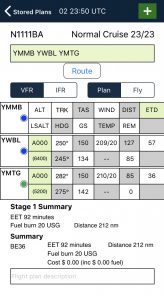 AvPlan EFB also includes the following fixes and incremental improvements;
User waypoints do not declutter as you zoom out. All your user waypoints will now be visible all the time. Tap Map Settings, View Items, User Waypoints to overlay user waypoints.
There is a better layout of suggested routes when tapping the Routes button on the flight plan.
NZ ARFORs will update correctly when they change (no delay)
Dont send IFR routes when filing a VFR flight plan which happens to fly down an IFR route
Load a table of contents for a PDF document in the background and cache the results
Many visual layout issues fixed, especially when using multitasking on the iPad
Fix an issue which caused instantaneous climb at certain times
AIP-SUPs load immediately when launching the app
Fix an issue which could cause DropBox files to be missing when no network was present
Fix an issue where duplicate waypoints in a flight plan could cause an SPFIB briefing to fail
You can toggle the flight plan to be visible or hidden from all panes now
Swiping a flight plan row will allow you to delete it. Additionally there is a MORE button to show all the other options that are available
Upper level grid winds now have double the resolution (1.25 degrees now)
Favorite charts now works on iPhone
A direct-to button has been added to the cursor popup.