AvPlan EFB 7.7 is now available from the App Store as a free update for all subscribers. In this release we have added;
Weather cameras (For Australia, New Zealand and soon Alaska and Canada)
Geo-referenced low level GPWT charts
New flight plan filing interface for Australia
Zoom mode for raw METARs and TAFs
Invert colour mode for night operations
Ability to tune what app notifications you wish to receive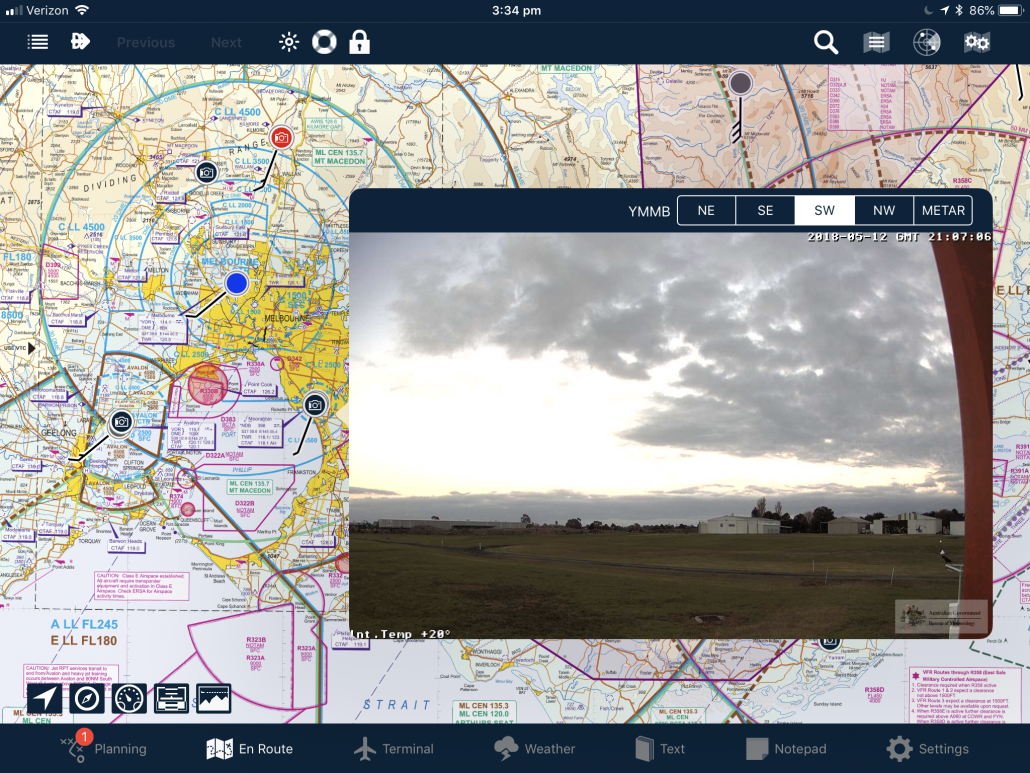 1
Weather camera icons are colour coded based on the weather at an associated METAR reporting station
2
For locations with multiple cameras, select the camera or the METAR (when applicable)
Weather Cameras
We have added support for various networks of weather cameras in AvPlan EFB 7.7. Weather camera images can be viewed by;
Enabling the camera overlay by tapping Map Settings, View Items, Weather Cameras
Tap the Camera icon on the Terminal pane for a location.
On the airport information pane when tapping on the map
The weather camera icons are colour coded based on the weather at the associated METAR reporting station (when there is one). The default colour, dark grey, is used when the official weather at the location is unknown.
Tap on an icon to view the cameras. When multiple are available they can be selected using the controls at the top right of the window.
If you have a location with a weather camera, let us know and we can add support inside the app.
Weather camera images are not an official pre flight weather briefing product and should be used for situational awareness only.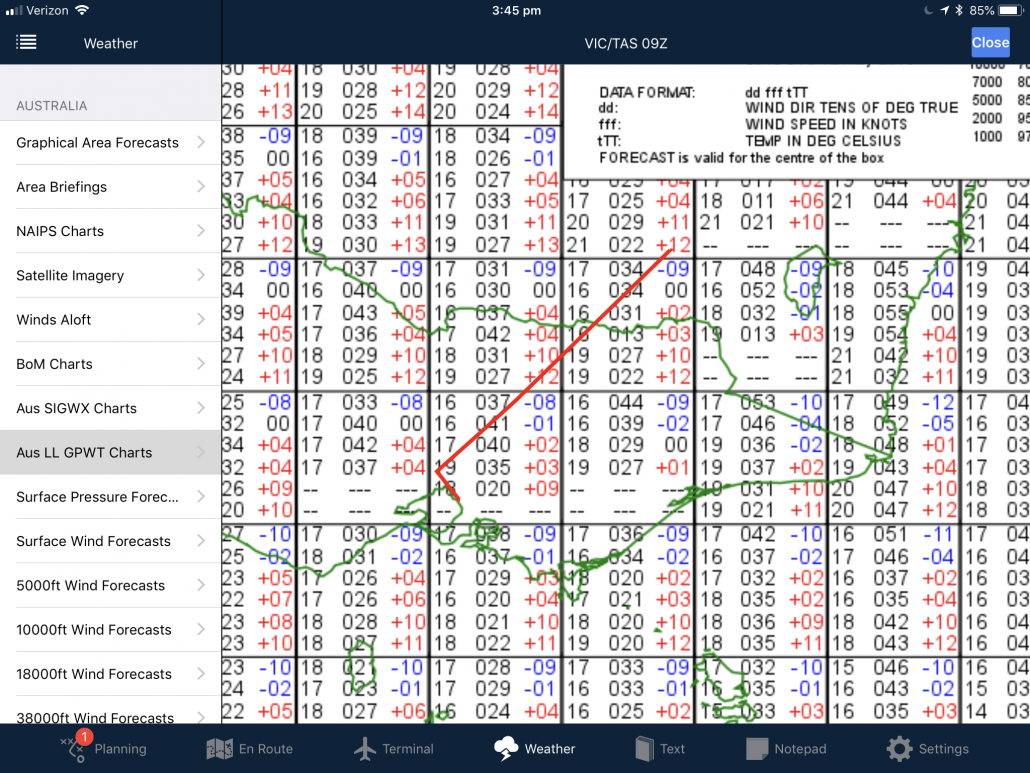 Geo-referenced LL GPWT Charts
AvPlan EFB 7.7 extends our exclusive support for the new flight planning products introduced in November 2017 with geo-referenced low level GPWT charts. These charts, available on the Weather pane now also show you your flight planned track.
This will greatly assist those using these charts for pre-flight planning purposes.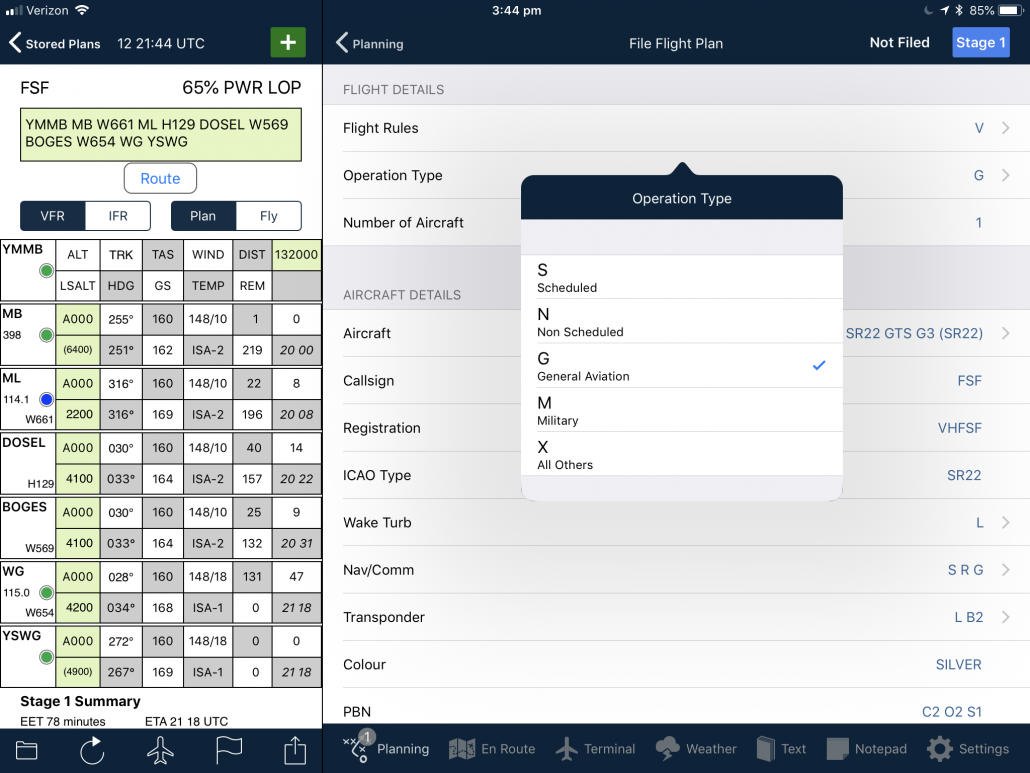 Enhanced Flight Plan Filing
AvPlan EFB 7.7 introduces a completely new interface for submitting flight plans in Australia. We have added a complete ICAO flight plan form where most entries can be altered in one place. Where applicable, changes are propagated back to the flight plan or aircraft profile as appropriate (and saved for later use).
For example, from the one form you can;
Change departure times
Add alternates
Add delay points (for aerial work for example)
Change flight rules
Add SARTIMEs
Change avionics settings
Add flight plan remarks
Different flight plan stages can be changed in the form – tap the Stage button at the top right to change the stage. Once complete, tap Submit at the bottom to file your flight plan.
Entries are also validated to ensure that they are in the various formats that NAIPS expects. This will make submitting a flight plan with AvPlan EFB even easier than ever before.
Weather Zoom
Tap and hold on a raw text METAR, TAF or ATIS on the terminal pane and a zoomed in version will be displayed to make reading it a lot clearer. (Available on iPad only)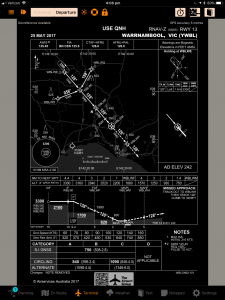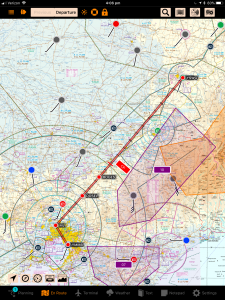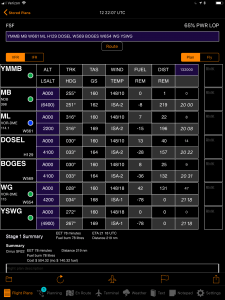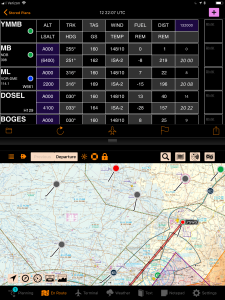 Enhanced Night Mode
We have made extensive tuning within AvPlan EFB to make it compatible with the iPad 'Smart Invert Colour' mode. This is ideal for night operations where most text colours are inverted. Items where the colours are important (VFR maps, METAR icons, Synthetic Vision etc) remain their normal colour however.
To enable Smart Invert Colours, open the Settings app and tap General, Accessibility, Display Accomodations, Invert Colours, Smart Invert.
You can also change the iPad settings to enable a triple click of the home button to toggle this display mode on and off (and this is a great idea to do). To do this, open the Settings app and tap General, Accessibility, Accessibility Shortcut. Make sure Smart Invert Colours is enabled.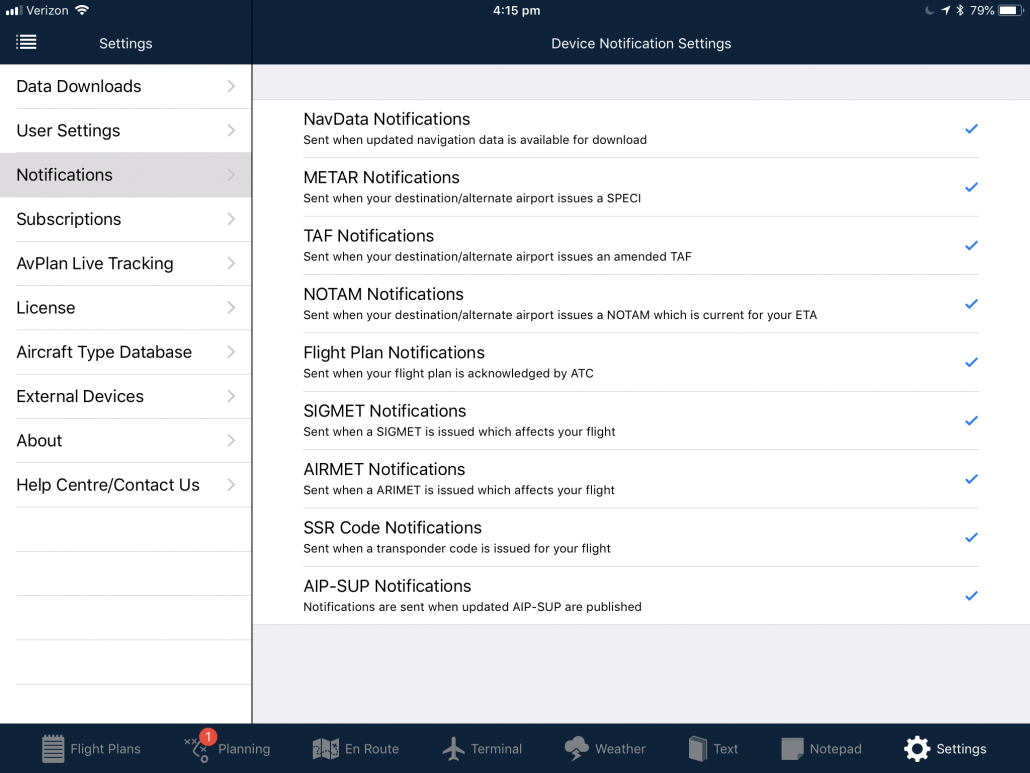 App Notifications
App notifications in AvPlan EFB 7.7 can now be user-customised. Select which types of notifications you wish to receive (the default is they are all on).
Additional Changes
We have also made the following small changes and improvements;
Added the ability to see both a TTF and a METAR for an airport when both is current
Lots of improvements to the Apple Watch app
Fixes for routing via SIDs and STARs (USA only)
Fixes for the 10minute/10 mile markers on your route
Fixed an issue which could cause the map to only show on 1/2 the screen
Nearby metars now includes ones which are not an an airport (KMG for example)
The aircraft description can be free text again
Fixed an issue when a flight plan was created from a 'direct to'
Fixed an issue which would cause the flight plan to be missing from geo-referenced approach plates
Fixed an issue with filing a flight plan in NZ with lat/long waypoints