We're pleased to announce that AvPlan EFB 7.4 is now available in the App Store as a free update for all users. In this release we have significantly overhauled the weather/NOTAM interface so that these now update in almost real time (when connected to the internet). Additionally, these updates are up to 10 times smaller making them far more reliable and efficient over slower networks or in flight.
We have focussed our efforts in streamlining the user interface to provide you more information on the Map page. Most actions both during flight planning or in flight can now be accomplished by tapping on the map.
The team has also put a lot of time into dramatically improving app performance, especially in the mapping engine. Users on older devices are really going to notice the improvement!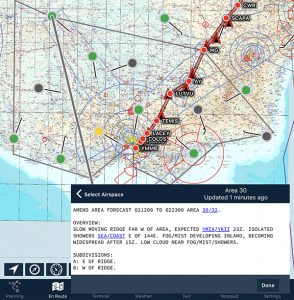 Airspace Changes
We have greatly improved the way you can view airspace (PRD, CTA, ARFOR etc) applicable for your flight. Double tap on the airspace and a new popup will appear. When you tap on the airspace or the ARFOR, AvPlan EFB will zoom and display the airspace in its entirety.
Additionally, when tapping on an ARFOR area, AvPlan EFB will also show you the forecast and allow you to tap on and display forecast subdivisions.
New notifications
The environment in which we fly is constantly changing. Weather and events on the ground mean that even though we may have had a complete briefing on the ground it can be out of date quickly when in the air. We've implemented a comprehensive notification system in AvPlan EFB 7.4 to keep you informed of changes as they occur.
AvPlan EFB 7.4 will notify you of new SIGMETs and AIRMETs which affect your flight planned route, SPECI METARs and new NOTAMs for your landing points. These appear as notifications on your devices and also in a new location inside the app under Planning, Flight Status.
Notifications for SIGMETs and AIRMETs include a graphical depiction of the area and your flight plan. The areas are colour coded – orange for turbulence SIGMETs, blue for icing SIGMETs and purple for AIRMETs.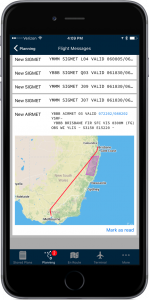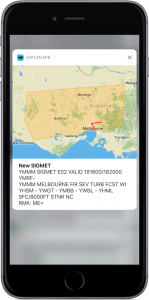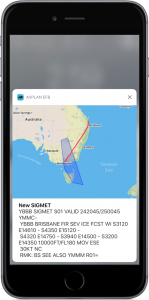 Touch based flight planning
We've dramatically improved the ability to prepare simple flight plans just by tapping on the map. A flight plan can be closed, new plan created, waypoints added and deleted just by tapping on the map. Additionally, when tapping on a point in your plan you will see a bunch of relevant information; METARs, TAFs, ATIS, NOTAMS, communication frequencies and charts.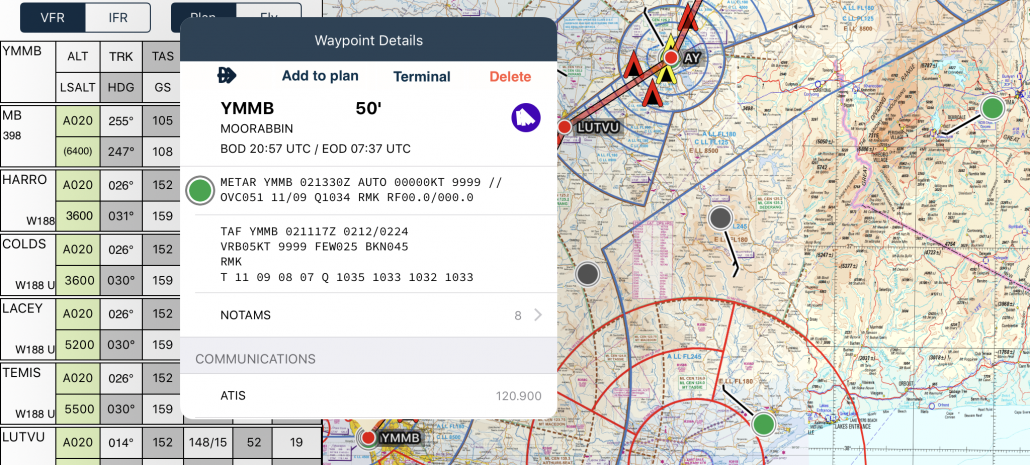 NOTAMs
The management of NOTAMs is one of the most time consuming part of preflight planning. We've implemented a very powerful system to highlight new NOTAMs, clearly display when they are active and allow you to mark them as 'read'. New NOTAMs are highlighted in yellow, recent NOTAMs (ones which are less than 14 days old) have a black bar on the left.
Once read, they collapse down into a single line (which will re-expand if you tap on it). The read state will also sync with your other devices in real time!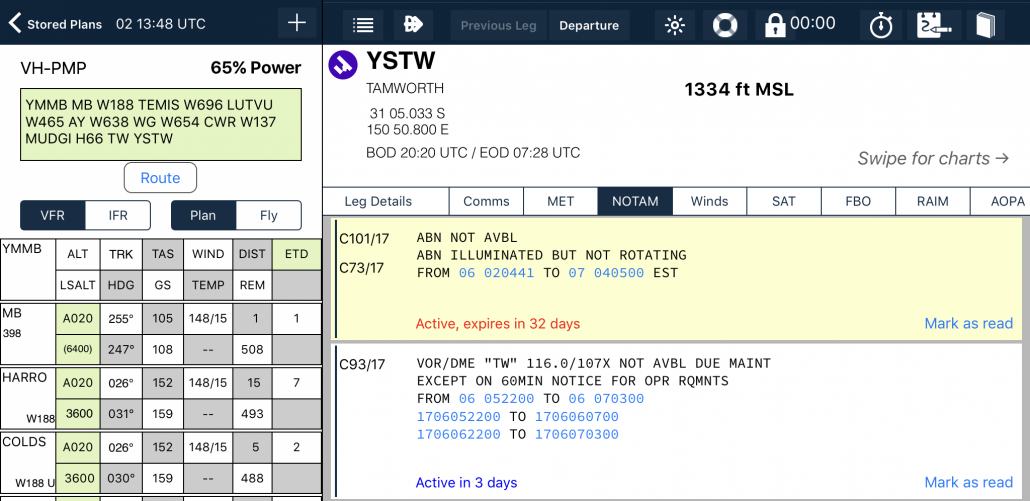 iPhone Improvements
AvPlan EFB brings a much improved interface to the iPhone. When interacting with the map the map now centres on the location and allows you to view both the map and nearest items, airspace information at the same time.
The goal in this release is to allow you to close, create a new flight plan, add and delete waypoints all from the single screen on the iPhone.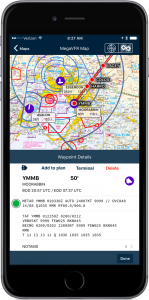 Other changes
We have also made the following smaller changes and additions;
You are now prompted if you want to save or discard your changes when closing a flight plan
A load sheet can be emailed, printed or exported directly from the Loading page. Additionally, you can now create a load sheet with just a blank flight plan.
We have added two new items to the HUD: Destination QNH and destination surface winds. The winds at your location, and QNH at your location HUD items now also show you what reporting station is used to derive this information
New layout of the Settings pane
The glide calculator area is now smoothed
The Notepad and other annotations are now optimised for use with the Apple Pencil on the iPad Pro.
There is a new help centre under Settings where you can contact us or view frequently asked questions
Fixes
The following fixes have also been incorporated;
AHRS improvements for iLevil 3 and Dual XGPS 190
Fix an issue with the LSALT calculator using terrain or obstacles outside the splay
Corrupt files under Text can now be deleted
Resolve an issue when a flight plan with a SID or STAR is imported
Fix distances and labelling in the HUD when abeam waypoints are used
Hide out of date SIGMETs from the map view
Fixed an issue which missed the first DCT in a NAIPS flight plan submission