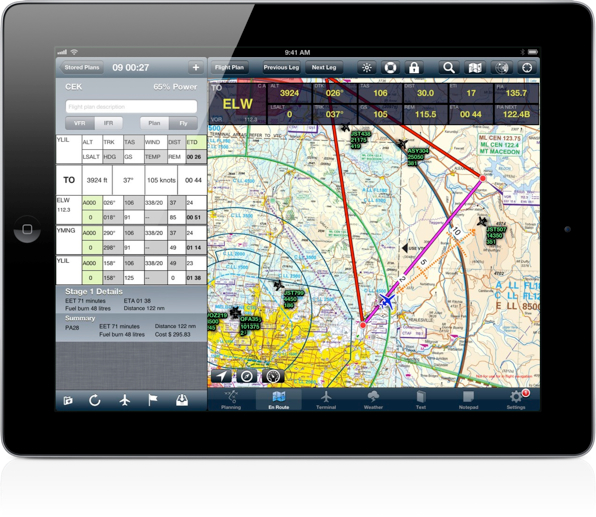 We're excited to announce the availability of AvPlan 3.1, a free update that is now available in the Apple App Store. AvPlan EFB 3.1 adds the following exciting new features;
ADSB traffic via the Sagetech Clarity ADSB receiver. This will enable you to see the location of all nearby ADSB equipped aircraft overlaid on the AvPlan EFB maps.
External GPS support for the Sagetech Clarity ADSB receiver.
Sync files across devices when downloading to save time and bandwidth
Dropbox integration to synchronise documents with AvPlan EFB
New 10nm ring around the aircraft
Traffic!
AvPlan EFB will now display the location of all ADSB equipped aircraft within range when connected to the Sagetech Clarity ADSB receiver. There are two versions on the Clarity receiver available. One has an AHRS built in to display aircraft attitude and one does not. Expect to see an attitude display in AvPlan very soon. The Clarity connects to your iPad/iPhone via Wifi and multiple devices can be connected to the one Clarity unit and see all ADSB traffic and GPS position.
The GPS in the Sagetech Clarity is a 66 channel WAAS capable device. AvPlan EFB automatically switches off the internal iPad GPS when the Clarity is detected, saving battery life.
Both versions of the Sagetech Clarity are available for purchase on our website.
Download Synchonisation
When downloading data to your devices you now have the option to sync the downloads to other devices connected to the same WiFi network. This will save time and internet bandwidth when keeping the data updated on multiple devices. For best results have all devices on the Download page in AvPlan and download the data on your most powerful device. Tap 'Devices' on the downloading device to select the devices with which to sync.
You will notice some differences in the Download page as well. All map types can be selected on the download map, and downloaded by tapping on the required chart.
Behind the scenes we are also monitoring what is downloaded on your device, and will warn you via email and in-app notifications if data is not downloaded in advance.
Document Synchronisation
AvPlan EFB can now directly synchronise PDF documents with Dropbox. On the Text pane, scroll to the Dropbox section and link to a dropbox account (multiple are supported). PDF documents can then be wirelessly synchronised with AvPlan.
In addition, if you create folders in the Dropbox account named with either the airport name (Albury) or identifier (YMAY), PDF documents in these folders are directly accessible on the Terminal pane. These could be airfield diagrams for an ALA or takeoff performance charts for example.
Fixes
We have also fixed a number of issues that users have identified with the software
Download warnings will only be present when there is actually something to warn about

Climb TAS is not sent in the NAIPS notification when a whole segment is 'on climb'
AvPlan will now clear relevant information so a NOSEND plan and then a real plan will not cause a NAIPS error
Warnings when required information has not been entered (altitudes, departure time, fuel) when submitting a plan have been fixed
METAR's older than 12 hours are not displayed on the map
'Disable moving map mode' and the 'Plan/Fly' button now disable the GPS as it should
Fixed possible memory leak when downloading forecasts
Fixed possible issues with map downloading
A delay can be specified on a departure point
Map scale works on the new Mega charts
Fixed issue when being prompted to download unnecessary database versions
Downloading individual ERC-H charts is now available
https://www.avplan-efb.com/wp/../shared/content/uploads/2013/05/Screenshot_traffic_aopa.jpg
517
596
admin
https://www.avplan-efb.com/wp/../shared/content/uploads/2016/10/newlogo2.png
admin
2013-06-23 06:08:55
2013-06-23 08:23:43
AvPlan EFB 3.1