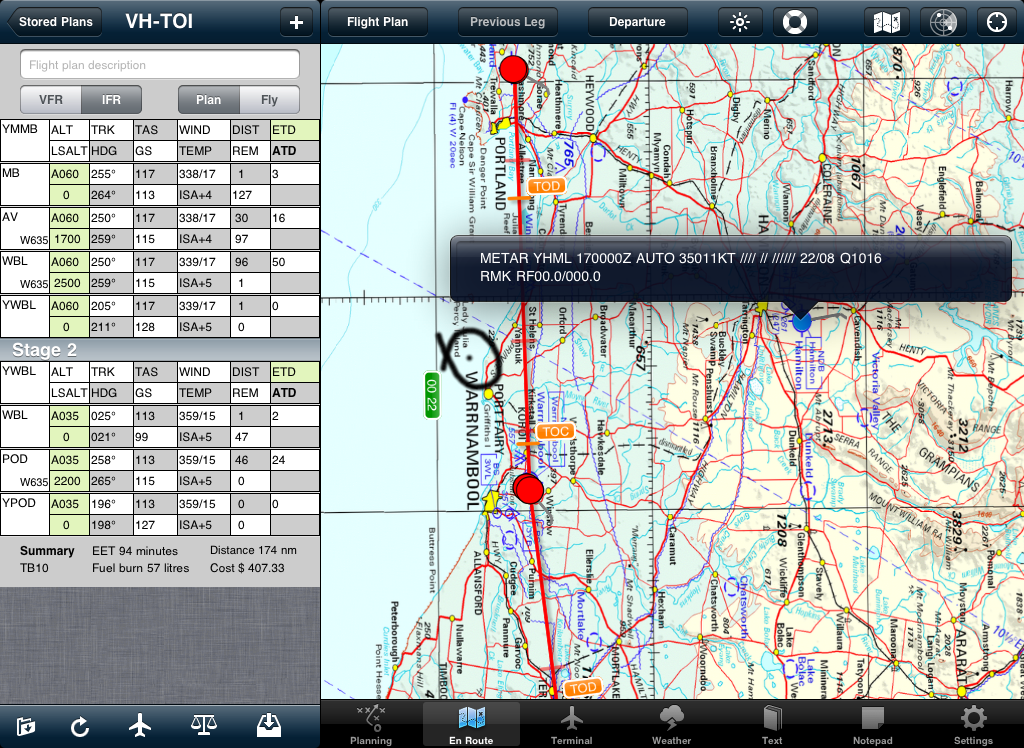 AvPlan 1.5.3 is now available via the Apple App Store. This release includes a bunch of new features;
Added Sunrise/Sunset calculations, communications details and winds aloft on the Terminal tab
Added top of climb, top of descent and PNR annotations on route. PNR is calculated on the return to origin.
User fixes can be deleted by tapping on the fix and selecting 'Delete' on the menu which appears.
New printing capability, located under 'Flight Planning'. Select plan, weather and charts to be printed/emailed/sent to another app. Forecasts can now be printed.
Bulk import user waypoints from a CSV file. See below for the format.
Share and download aircraft type models via www.avsoft.com.au/avplan/aircraft-model-database . Aircraft models can now be copied.
METAR icons are colour coded for VFR/Low VFR/IFR/Low IFR (blue,green,yellow,red).
IFR routes are added using stored routes where specified via Airservices Australia.
Improvements to the way the 'rubber banding' of routes is handled. Tap and hold anywhere along a route, and when the blue ring appears, drag it to a point to insert a new leg in a route.
During the install the app will update, download and install new databases. This database update sets the app up for some exciting new features which will appear in 2012.
The METAR icons are colour coded as follows;
Blue (VFR). Visibility > 8km, Cloud > 3000ft.
Green (Marginal VFR). Vis > 5km, Cloud > 1000ft.
Yellow (IFR). Vis > 1600m, Cloud > 500ft.
Red (Low IFR). Vis < 1600m and Cloud < 500ft.
A CSV file can be imported from an email message into the app. The format of the file is as follows;
Ident, Name,Type,Frequency,Latitude,Longitude,Altitude,Magnetic Variation
(the Type and Frequency values are currently placeholders and will be silently ignored)
Also included are a bundle of bug fixes, performance and stability improvements.
As with all our releases since 1.5, if your trial period has expired, a new version will work for a number of days to give you the chance to see the new features in action.
https://www.avplan-efb.com/wp/../shared/content/uploads/2011/09/metar_tod.png
748
1024
admin
https://www.avplan-efb.com/wp/../shared/content/uploads/2016/10/newlogo2.png
admin
2011-12-04 13:01:02
2011-12-16 16:22:07
AvPlan 1.5.3