There are some things they can't teach you in flight school.
An hour out of Kununurra in the heat of a Northern Territory afternoon, lone pilot Lauren McLean looked over her right shoulder at the coffin she was carrying back to an aboriginal community. "Well, this is real!" she said, trying to get comfortable with her unusual cargo.
Lauren grew up within a spanners throw of Moorabbin, the main General Aviation airport in Melbourne, Victoria, and was inspired to fly after attending airshows with her parents.
"I wanted to do aviation at uni, but there was no government assistance for that. I didn't want to ask my parents for $100,000 so I did Mechanical Engineering at Swinburne. After 18 months post-grad working in the field, I returned to aviation and finished my flight training within a few months.
I was in the supermarket when I got a call from Steve at Shoal Air in Kununurra asking for my resume. He put me through my paces, asking why I deserved the job over anybody else. I told him I'd already worked professionally and the speed of my training proved I was serious," Lauren says. "Kununurra was a huge culture shock. Of the 50 local pilots, only six are women. I had no aviation contacts and in a town that can be quite polarized, I had a heightened sense of personal security."
On her first duty checked to line, Lauren saw that the white board rostered her to fly to YRSK. Bearing an iPad and paper charts, she looked up the airport, Ringer Soak, NT on Google Earth to get her head around the destination. With situational awareness so important in the Outback, Lauren admits that it's important to have as much backup as possible.
"I was rostered to fly from Kununurra, 181 nm south to Ringer Soak, a tiny aboriginal community, to collect a couple of children who were departing for boarding school. I was advised to buzz the community to announce my arrival. I found the red runway slashed through the scrub, which I circled and then landed with my adrenaline running high. I got out and looked around at the old rusty drums of avgas and thought 'Now what do I do?'
I opened the baggage compartment and waited.
After about ten minutes I heard cars in the distance and could see six cars with kids running either side of them. Maybe 30 people arrived. It was a huge deal. Two kids seemed to stand out—they were barefoot and one had a plastic bag of stuff and the other had a suitcase. They were all crying: the kids, the parents, everyone.
I couldn't take it in too much at the time because I had to focus on flying the aeroplane and not be affected by it. On departure, everyone waved and some of the littlies threw rocks at the aeroplane. It hit me afterwards how different those kids are brought up."
Unfortunately, Lauren's young charges vomited all the way to Kununurra in the hot and bumpy conditions. Lauren felt as though she spent the first couple of months just trying to take it all in and her diary records a list of things that scared the living daylights out of her.
Having adopted AvPlan EFB after it was gifted to her on completion of her flight training, Lauren recalls a ferry trip from Kununurra to Coolangatta when the winds were 20 kts stronger than expected. Unable to reach her overnight stop at Mt Isa, she diverted to Tenant Creek using some fancy finger work on the iPad.
"That flight became an exercise in fuel management. As the Caravan uses Jet A1, I knew Tenant Creek was my only option. I put the diversion into Avplan EFB, rang the Ops manager who rang the fuel people, and landed. All the information I needed was on AvPlan EFB. I ended up staying the night, but the diversion was made all the more easy because I had the iPad. I quickly redid the flight plan and weather in the morning and arrived in Coolangatta that evening."
Lauren is back home to complete her ATPL and instrument rating and looks forward to another season in the north. Even though she's been quoted as saying, "I'm way too city for this…," she readily admits she's having the time of her life. And it shows on her face.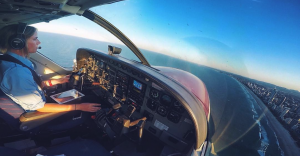 Last Light into Coolangatta, Qld after a 15 hour ferry flight in the Cessna Caravan.
https://www.avplan-efb.com/wp/../shared/content/uploads/2015/10/Screenshot-2015-10-12-16.07.04.png
536
1030
Kathy
https://www.avplan-efb.com/wp/../shared/content/uploads/2016/10/newlogo2.png
Kathy
2015-10-12 16:18:43
2015-11-19 11:26:08
When Home is a Foreign Place