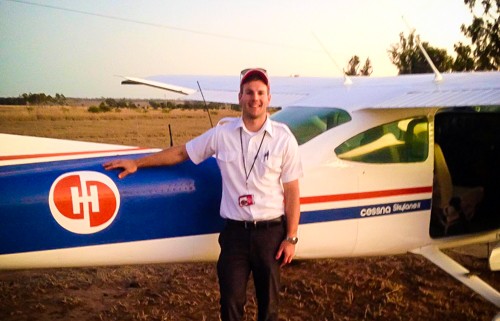 Outback pilot and Avplan EFB user Chris shares some insights into his life on a remote Australian cattle station.  
I'm living on a 60,000 acre (24,281 ha) cattle station approximately 40km north-west of Emerald, Queensland. I grew up in Brisbane and moved to the outback for my first aviation job six months ago. I had about 200 hours and now have double that.
I fly for a cattle company based in Western Qld :
– transporting company employees between our ten properties
– collecting machinery parts
– fire spotting
– general transport of company executives.
So far my job has taken me as far north as the Gulf of Carpentaria and south into New South Wales. Most of my flying is single engine day VFR. I love the diversity of my job and on my days off from flying I help around the farm. One day I'll be flying half way across Queensland, the next I'll be on a motorbike mustering cattle.
We currently operate a Cessna 182 and I have experience on types ranging from the Recreational Aviation Jabiru to light piston twins.
It's been a childhood dream to work as a pilot. Mum says that when I was young I would run to the window every time an aeroplane went by and yell 'plane plane'. My uncle has his private licence and took me for my first ride when I was about 9 years old. I started flight training while I was in high school, went solo in a Jabiru at 15 and gained my commercial licence and first job at 20.
My first experience with Avplan EFB was in 2014 while completing training for my commercial licence. I am still quite new to the program and am finding out new features every week. It is extremely user friendly and can cater for all types of flying, whether it is for the recreational pilot or the IFR charter pilot.
I particularly like the weather radar overlay, live traffic, user waypoints, distance rings and one of my favourites is the position overlay on the airservices aerodrome charts, which is extremely useful for taxiing at unfamiliar airports.
I have tried to minimise the use of paper charts in the cockpit, using two IPad minis with Avplan EFB installed on both for all of my flight planning. The nav log, fuel planning and weight & balance features of the program save an enormous amount of time in the planning stage. Avplan is most handy when I am given little notice of flights. It's not uncommon to be out working on the farm and for my boss to call and say "Chris, jump in the plane and go pick up so and so."
Using Avplan EFB I can key in a flight plan, do the weight and balance, check the weather and be airborne promptly.
My first gig as a commercial pilot saw me flying from Brisbane to a property about 40km due west of Emerald, Qld. I was to pick up the aircraft in Brisbane and my new boss (whom I was yet to meet) provided just the coordinates of the airstrip on the property. I was also given instruction to take his parents along for the ride. Foremost in my mind was that I hadn't even met the boss yet, I had to fly his parents to an airstrip in the middle of nowhere.
Using the 'user waypoint' feature I was able to accurately pinpoint the airstrip.
The weather radar overlay is also a great tool when flying around North Qld in the wet season. Recently I was flying the company CEO between two of our properties. It was late in the afternoon with isolated thunderstorms. Using the 'weather radar overlay' feature, I was able to safely divert around the storms.
I think the end goal for every pilot is to, at some point in their career, end up working in the airlines. While I'm young I wish to work in as many different areas of aviation as possible – tourism, corporate, charter and aeromedical are all in mind. I love a challenging job and it would be magnificent to fly in the highlands of the Himalayas or Papua New Guinea and experience the different cultures along the way. The greatest thing is there's always somewhere different to fly, and a bigger and better aeroplane to aim for.
https://www.avplan-efb.com/wp/../shared/content/uploads/2015/11/Chris-e1447537502568.jpg
498
500
Kathy
https://www.avplan-efb.com/wp/../shared/content/uploads/2016/10/newlogo2.png
Kathy
2015-11-14 23:07:48
2015-11-19 11:25:07
Between a Cessna and a Suzuki