AvPlan is the leading Australian flight planning application for the Apple iPad and iPhone. It is available from the Apple App Store. We are CASA approved under CASR Part 175.295 [formerly CAR 233 1(h)] so AvPlan EFB can be a legal replacement for paper maps, ERSA, DAP, AIP and AIP SUP. We always recommend that a backup be carried in the cockpit, and this backup can be another device running AvPlan EFB, or traditional documentation.
Envisioned, developed and rigorously tested by Australian pilots for Australian pilots. Focused on continuous improvement, the team at AvPlan consult with CASA and our Product Design Board comprising senior instructors and pilots active in all major aviation segments.
Subscriptions for AvPlan are available for purchase inside the app, or directly from our website. Subscriptions through this site come at a discounted rate over those available through the app, as it bypasses the Apple royalty payment. Your AvPlan subscription can be used by you on up to three (3) mobile devices (iOS or Android). This makes AvPlan EFB the most cost effective EFB for Australian pilots.
The current AvPlan user base includes pilots from all areas of aviation;
Regional, RPT pilots
Charter pilots
Agricultural pilots
Private pilots
Recreational pilots
Military pilots
SAR/EMS pilots
Designed as the go-anywhere lifetime EFB application that can grow with you – from local VFR recreational aviation through to professional IFR charter and regional airline operations, AvPlan has been designed to leverage your investment by using the portability, connectivity, ease of use, reliability and processing capability of your Apple iPhone and iPad.
The Perfect Co-pilot
Responsive, powerful and portable, AvPlan EFB's context awareness engine ensures it's always ready to provide you with the best possible information at your fingertips whether you're preparing for a flight or airborne.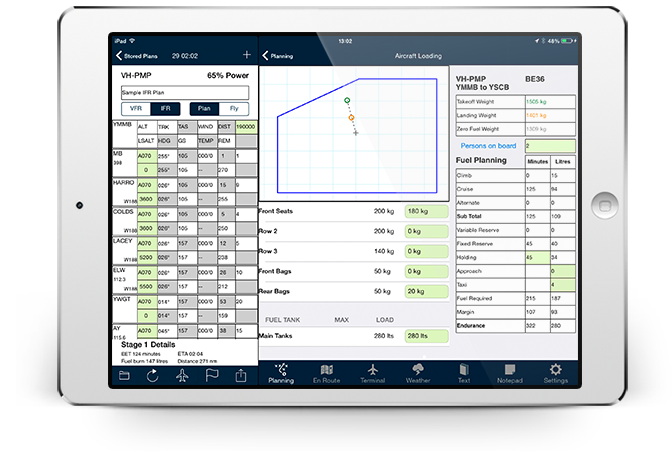 2
Take off, Landing and Zero fuel weights automatically calculated
3
Passenger manifest and weights
5
Multi-stage flight planing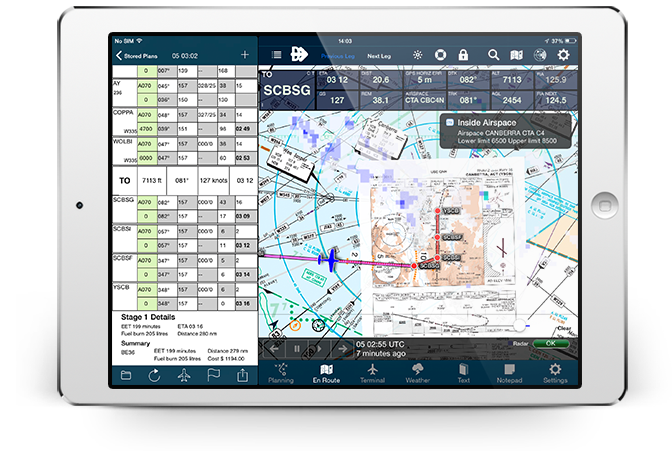 2
Airspace, obstacle and terrain warnings
4
Live Course Pointer – know where you'll be in 2,5,10 minutes
5
Geo-referenced approach chart overlaid on seamless map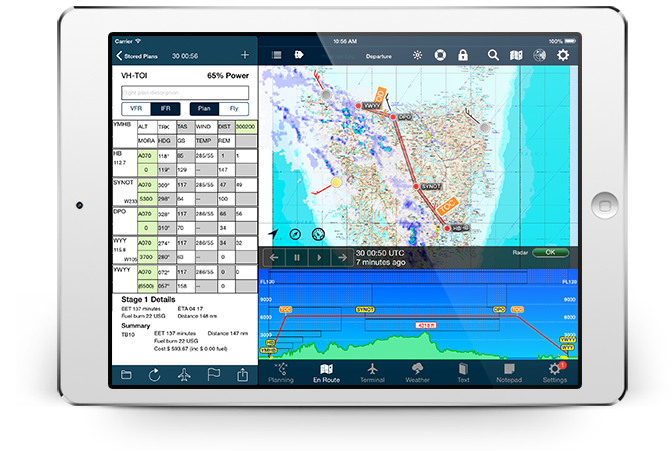 1
BOM Rain RADAR/Lighting overlaid on map
2
Automatic IFR routing engine
3
Automatic Top of Climb/Top of Decent calculations