There's first dates, and then there's 'First Dates…'
Kim from Idaho got more than she bargained for when she accepted an invitation to go on a breakfast flight with her prospective beau, Kevin in his original Avid model 4 heavy hauler.
After a Friday evening familiarization, Kim's nerves were quelled and the couple left the following morning to tour a friend's ranch. JJ's ranch has a 1000 foot strip at a place called Hesitation Point.
"The Avid is a heavy hauler with bush gear, bigger tyres and wheels for off-country excursions," says Kevin. "I do a lot of mountain flying in back country strips. JJ jumped into his Cub and we flew to Murphy, Idaho for a nice breakfast. It was a beaut day, a little cool, and so we then went to the ranch to look at the spring and the Indian caves with pottery and a bunch of cool stuff."
Kim was wearing flip-flops on the quarter-mile walk to the house and Kevin was in shorts and tennis shoes. Ironically, Kevin had asked JJ if there were many rattle snakes around out there in the Idaho desert.
Next stop was Black Rock Canyon and so after a quick pre-flight, Kevin strapped Kim in. She thought the muffler heater was working a little too well and so the couple was in and out of the plane a few times, taking off a jacket and Kevin straddling the wheel leg mucking around with the heater, stepping on and off the tyre. After the dust settled from JJ's departure, Kevin followed.
"We are no more than airborne when Kim starts yelling, but she has no mic to her lips so I can't hear what she's saying. She's pretty hysterical and then I realize she's screaming, 'There's a snake on the plane!' and I'm like, 'NO WAY!'
I put her mic to her lips and I look out and can see what she's seeing. I say, 'it can't get inside, so we're safe. Get some pictures of it!'
I call JJ on the radio, who doesn't believe it when I say, 'I got a rattle snake on the airplane."
JJ wanted us to fly up Black Rock Canyon, but Kim wasn't concerned about sightseeing."
"Flying is a new experience for me. I didn't realize how much an airplane can do, like flying into places that are like taking a back road. Airborne out of Hesitation Point I saw the snake on the wheel. I freaked. I was surprised at how the snake curled up inside the wheel and comforted that it was out there and not inside with us. Then it was quite exciting watching the snake hanging on. This experience won't stop me from flying, but it will make me more aware and cautious in future—particularly when we're leaving Hesitation Point," says Kim.
The snake, a three-foot rattler, was curled snug into the wheel rim and crawled out after takeoff. Kevin flew up the canyon and then back over the bunkhouse on JJ's ranch where Kevin says that at 700ft the snake 'went skydiving' and he now teases JJ that it landed on top of his bunkhouse.
The Avid was back at the Nampa airport within 35 minutes and later that week at the regular Top Fun Fliers meeting Kevin did a presentation about preflights and being careful around your wheels in the desert. He also recommended to pilots that they make a habit of keeping their doors closed because the snakes are seeking warmth and … (oooh—it doesn't bear thinking about).
"He was just hanging on the gear leg and he seemed a little irritated. The way he was coiled I thought he was going to stay there so I was relieved when he finally bailed off. I'm sure gonna check the plane a little better in future." says Kevin.
Kim wouldn't deplane until the airplane was certain to be free of its third passenger.
The Top Fun Fliers will soon be having a fly-in to Hesitation Point—so named because the strip is only suitable for extremely short-field operations. It has since been unofficially renamed Rattlesnake Ranch.
To Kevin's delight, Kim returned for a second date and they now regularly fly away together.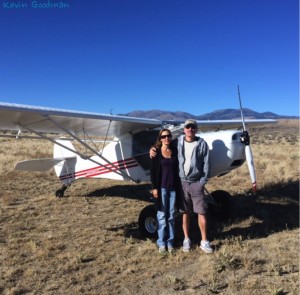 AvPlan EFB users who need to find your nearest airport quickly, use the rubber band function on the map and drag it to the nearest airport and hold for a couple of seconds. The nearest airport information will be displayed.
http://www.avplan-efb.com/tips/discussing-direct/
https://www.avplan-efb.com/wp/../shared/content/uploads/2016/10/newlogo2.png
0
0
Kathy
https://www.avplan-efb.com/wp/../shared/content/uploads/2016/10/newlogo2.png
Kathy
2015-09-29 09:16:25
2015-09-29 09:17:29
"...I got a Rattle Snake on the Airplane..."